In the ever-evolving landscape of parking solutions, the CTT Outdoor Car Turntable stands out as an innovative and efficient addition. Designed for private parking facilities, commercial parking lots, car showes or car photoshootings, this cutting-edge technology offers numerous advantages to both property owners and users.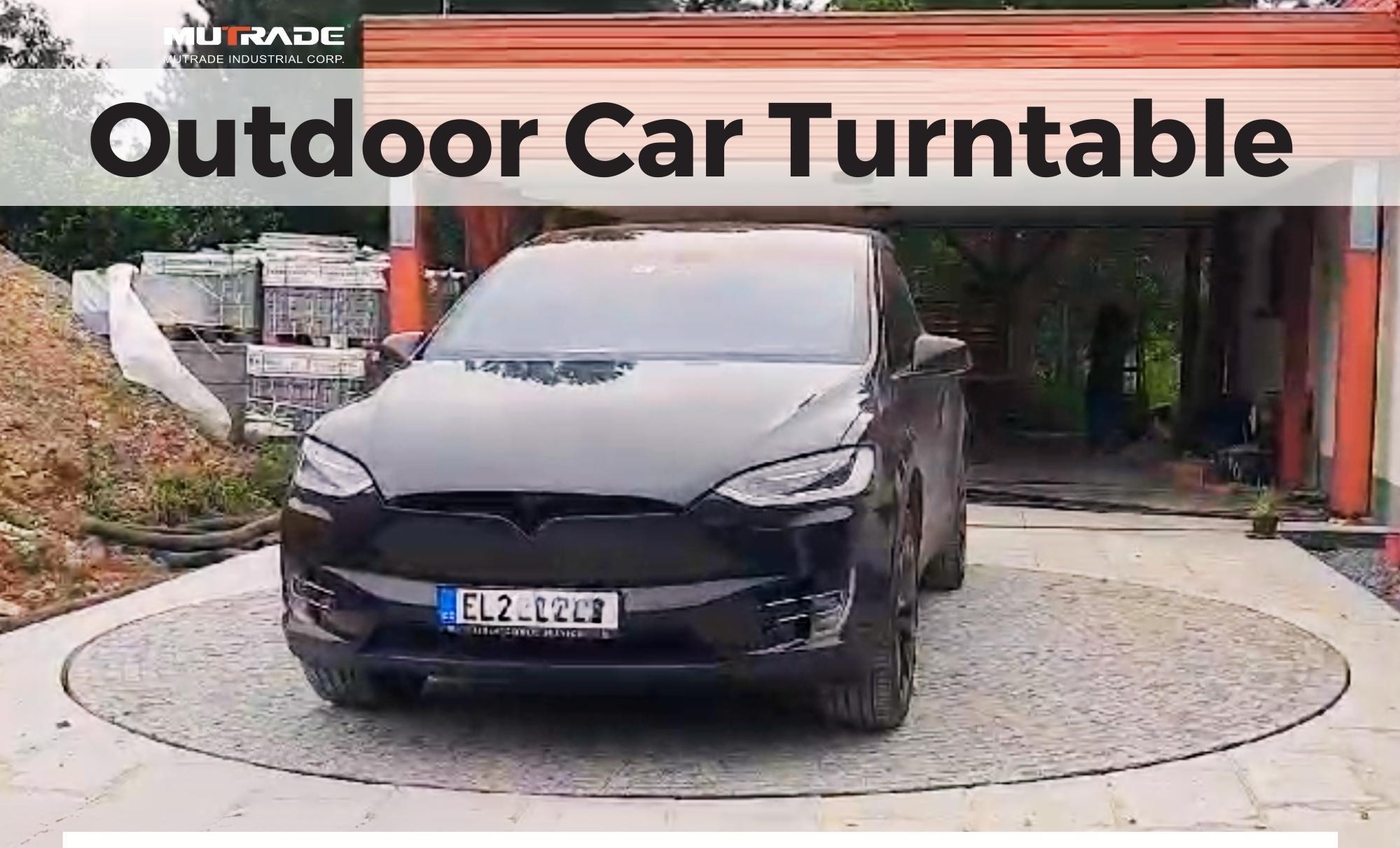 Advantages of Utilizing the CTT Outdoor Car Turntable
Addressing Parking Challenges with the CTT Turntable
Exploring the CTT Turntable Parking Process
Dimensional drawing
Advantages of Utilizing the CTT  Car Turntable
Optimized Space Utilization: The CTT turntable maximizes the utility of parking spaces by eliminating the need for cumbersome maneuvering. Its compact design ensures that every inch of the parking area is put to efficient use.
Enhanced Accessibility: Users benefit from the convenience of easy access to their parked vehicles. With the turntable, parking in tight spaces or awkward corners becomes hassle-free.
Time Efficiency: Parking or retrieving a vehicle with the CTT is a quick and seamless process. This time-saving feature is particularly valuable in high-traffic environments.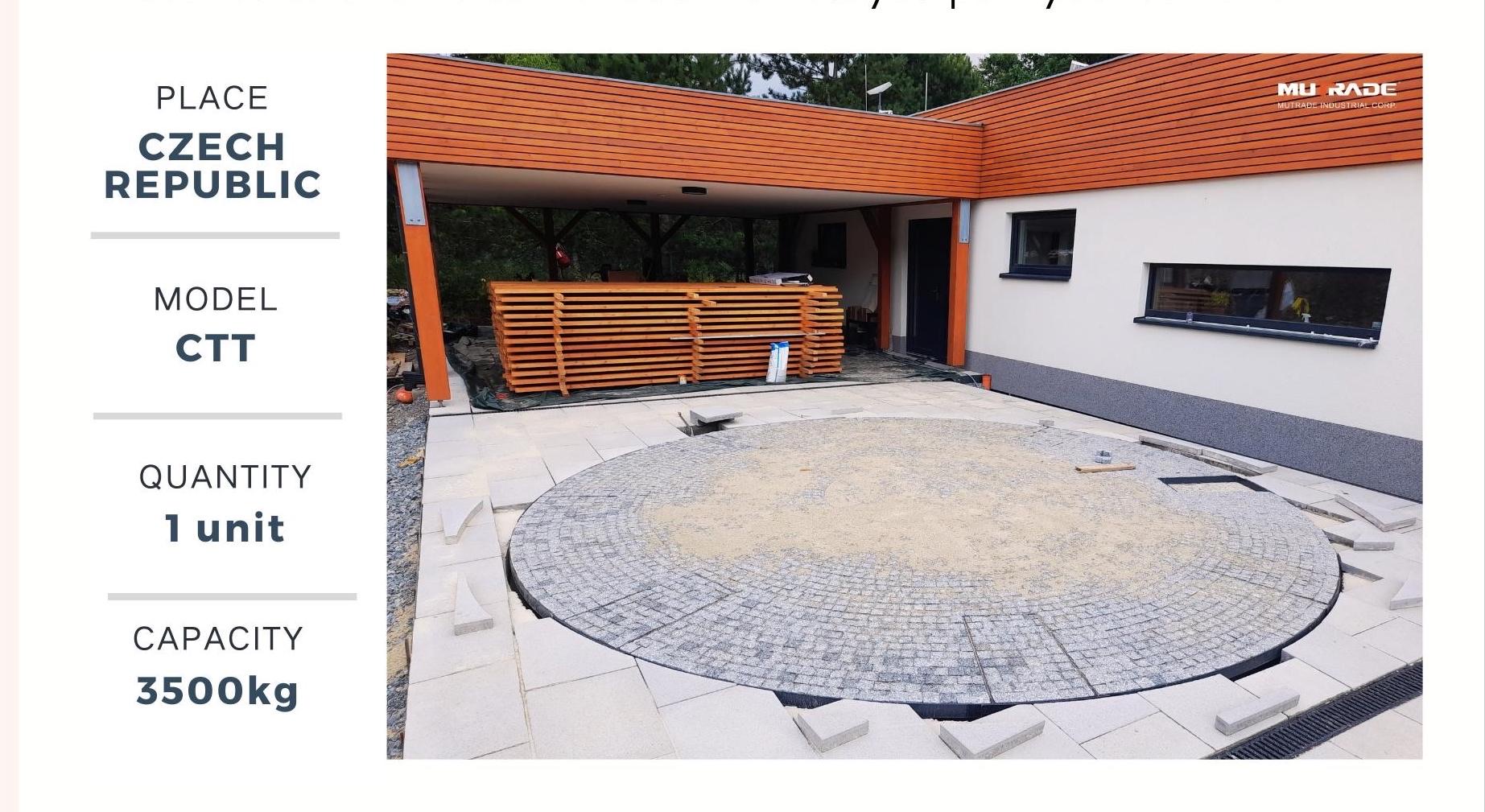 Addressing Parking Challenges with the CTT Turntable
Parking in congested urban areas or in tight private parking conditions often presents a multitude of challenges. Mutrade Car Turntable CTT has been engineered to tackle these issues head-on, providing solutions to some common parking dilemmas:
Limited Space: In densely populated regions where space is at a premium, CTT offers an ingenious solution. It allows property owners to maximize parking capacity without expanding the physical area.
Maneuvering Constraints: Navigating tight corners and narrow spaces can be a nightmare for drivers. Car rotating table eliminates these challenges, making parking a breeze.
Security Concerns: Safety is a paramount concern for both property owners and vehicle owners. Car Turning Platform CTT enhances security by offering controlled access to parking spaces and vehicles.

Exploring the CTT Turntable Parking Process
The process of using Car Turntable is remarkably straightforward:
Vehicle Placement: The user drives their vehicle onto the turntable platform, positioning it within the turntable area.
Activation: By holding the rotation button (left or right) on the remote control CTT turntable is activated, causing the vehicle to rotate. This rotation effectively reorients the vehicle for easier access and departure.
Parking or Retrieval: Once the rotation is complete, the user can comfortably park their vehicle or prepare for departure. The process is quick and convenient, ensuring minimal wait times.
Conclusion:
Car Turntable CTT not only simplifies parking but also offers a novel and efficient solution for private parking facilities. Its ability to address common parking challenges and streamline the parking process positions it as a valuable addition to modern parking infrastructure.
For detailed information get in touch with us today. We're here to help you modernize, streamline, and elevate your parking experience:
Mail Us: info@mutrade.com
Call us: +86-53255579606
---
Post time: Oct-01-2023