When our Thai client approached us with the task of designing a parking solution for their residential condominium project in the bustling city of Bangkok, they faced several pressing challenges. Bangkok, known for its traffic congestion, high population density, and limited available space, demanded an innovative approach to parking. The primary challenges that drove our client to consider the BDP-1+2 puzzle parking system were limited space, high demand for parking spaces due to the condominium's location in a densely populated area and msintsining the architectural harmony of the development.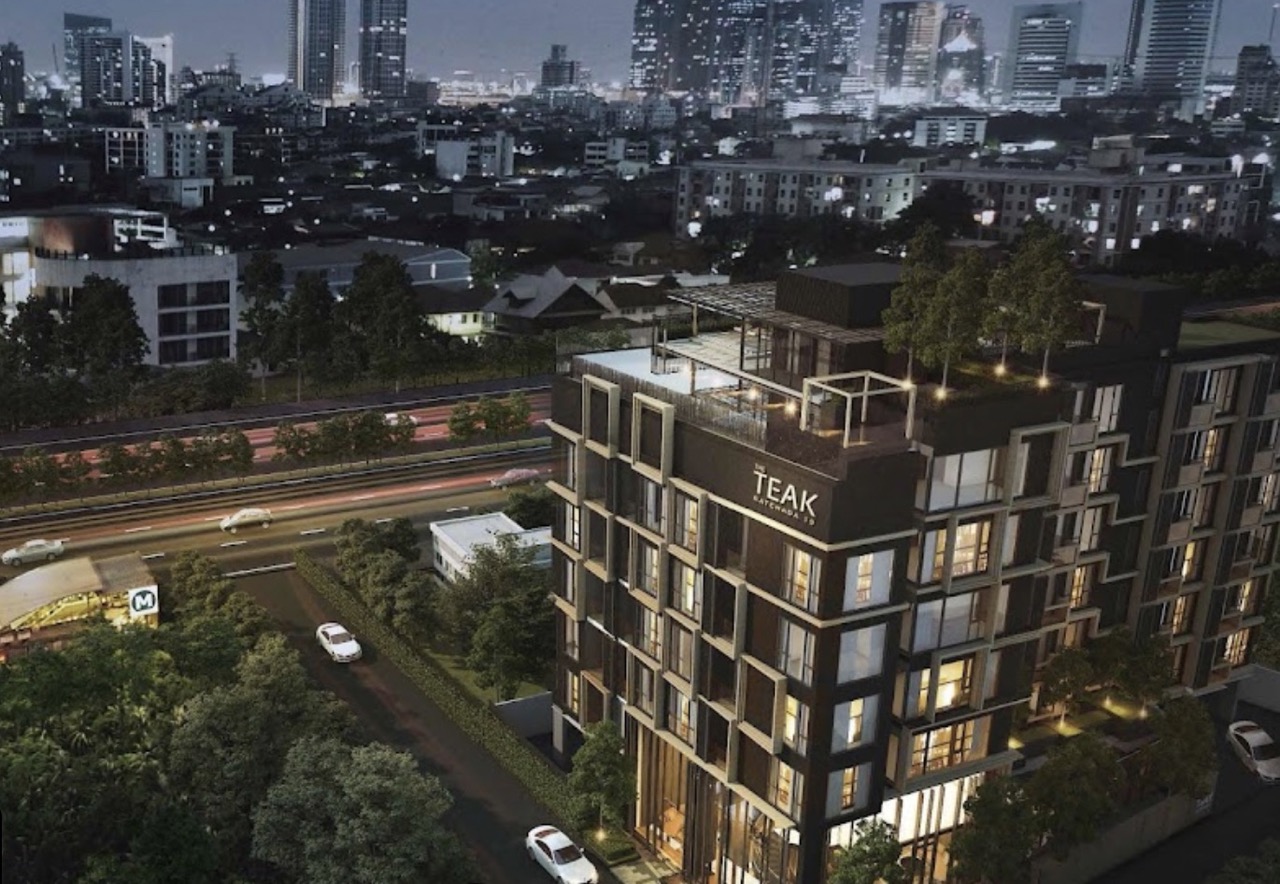 Challenges and Motivation
Advantages of the Puzzle Parking System
Design Features of the Lift & Slide Puzzle Parking System with Underground Level
Demonstration video
Dimensional drawing
Challenges and Motivation
Our project revolves around the implementation of a cutting-edge three-level puzzle parking system for a residential condominium in the bustling city of Bangkok. This innovative parking solution aims to address several challenges that prompted our Thai client to opt for  BDP-1+2 pit puzzle parking system.
Challenges Faced:
Limited Space: The client was confronted with a scarcity of space in the residential condominium complex. Traditional parking methods required substantial surface area, which was impractical given the limited available land.
Growing Vehicle Ownership: The increasing number of residents and their automobiles in Bangkok demanded a more efficient use of available parking space without compromising convenience and accessibility.
Urban Aesthetics: The client wished to maintain the aesthetic appeal of the condominium complex while providing adequate parking facilities. Traditional parking lots would have disrupted the architectural harmony of the development.
High Demand: The client anticipated a high demand for parking spaces due to the condominium's location in a densely populated area. Traditional parking methods simply wouldn't suffice.
Traffic Congestion: Bangkok's notorious traffic congestion meant that efficient parking was not just a convenience but a necessity for residents.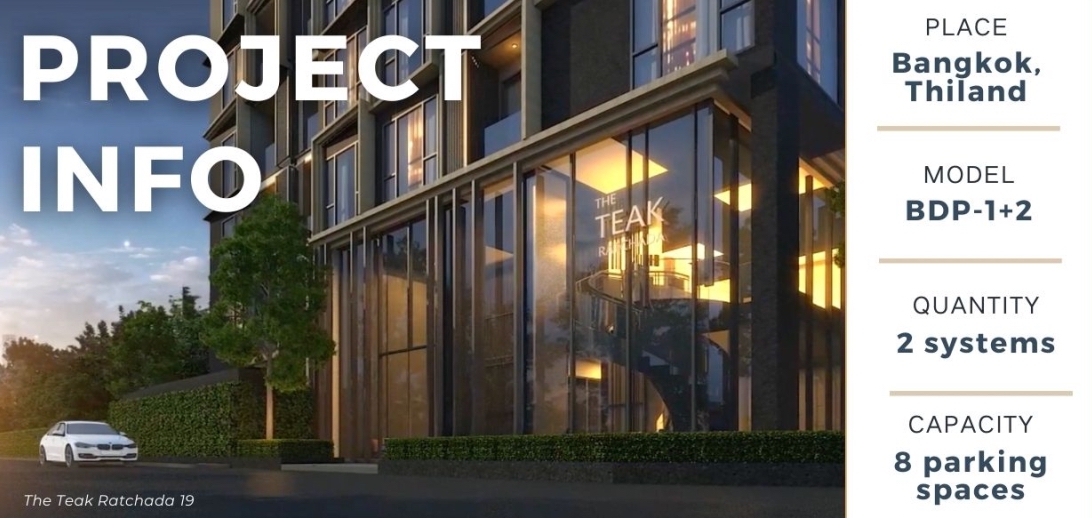 Advantages of the Puzzle Parking System
The utilization of puzzle parking system with 2 above-ground levels and 1 underground level brought forth numerous advantages, significantly enhancing the parking experience for the residents. By incorporating 2 puzzle parking systems BDP-1+2, each featuring four independent parking spaces, we triple the parking lot capacity, enabling the parking more vehicles on the same footprint that would typically accommodate just a few cars in a conventional flat parking lot.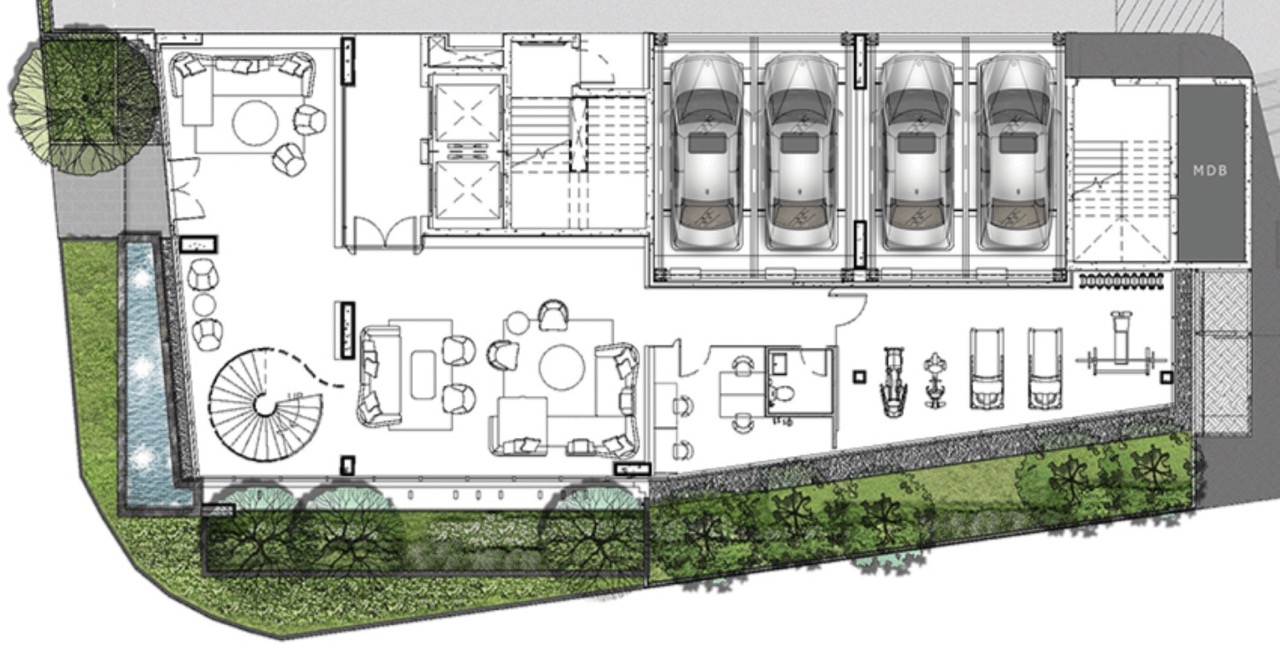 Key Benefits
Space Optimization: Lift & slide parking system BDP-1+2 is an innovative parking solution that utilizes both 1 underground and 2 above-ground levels for efficient vehicle storage. Vehicles are parked on pallets, which are then lifted and shifted horizontally and vertically to designated parking spots, positioning them efficiently, creating a compact, secure and accessible parking arrangement.
Accessibility and Convenience: By utilizing above-ground and underground spaces, it ensures easy access for users. The automated system eliminates the need for manual parking, making it incredibly convenient. With designated parking spots and efficient vehicle movement, residents can easily access their parking spaces quickly and effortlessly regardless of other vehicles parked in the system.
Enhanced Security: Puzzle parking systems are safe due to controlled access, reduced human interaction, secure storage and minimal vehicle movement. These features minimize risks, protect vehicles from theft and damage, and ensure a secure parking environment for users.
Aesthetic Preservation: The puzzle parking system integrates seamlessly with the condominium's design, preserving its aesthetic appeal while providing a functional parking solution.
Design Features of the Lift & Slide Puzzle Parking System with Underground Level
The chosen puzzle parking system for this project, the "Lift & Slide Puzzle Parking System with Underground Level," is characterized by several key design features:
Vertical and Horizontal Stacking
Cars are stacked both vertically and horizontally, optimizing the use of available space and allowing multiple cars to be parked in a compact area.
Independent Parking Spaces
Each parking space within the puzzle system is independent, ensuring that residents have easy access to their vehicles without the need to move other cars.
The inclusion of an underground level adds an extra layer of space efficiency while protecting vehicles from environmental factors and ensuring additional security.
Puzzle parking system is fully automated, with lifts and conveyors moving cars to their designated parking spaces at the touch of a button, providing residents with a seamless parking experience.
Demonstration video
of the parking process and the principle of operation of the puzzle parking system with an underground level
*Dimensions are applicable to specific project only and are for reference
Conclusion:
Our innovative Puzzle parking system not only met the challenges faced by our Thai client but also exceeded their expectations by providing a compact, efficient, and aesthetically pleasing parking solution for residents in the heart of Bangkok. The incorporation of two puzzle parking systems doubled the capacity and set a new standard for urban parking efficiency and convenience.
For detailed information get in touch with us today. We're here to help you modernize, streamline, and elevate your parking experience:
Mail Us: info@mutrade.com
Call us: +86-53255579606
Next:
ELEVATING PARKING EFFICIENCY: INTRODUCING CTT OUTDOOR CAR TURNTABLE FOR PRIVATE PARKING FACILITIES IN THE CZECH REPUBLIC
---
Post time: Sep-05-2023