TWIN PLATFORMS CAR PARKING LIFT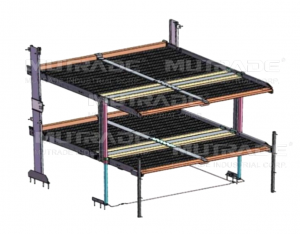 Starke 2221&2227
are the latest version of pit two post parking lifts that developed by Mutrade for below- grade storing. One single unit of Starke 2221&2227 is designed for 4 cars with 2100kg and 2700kg capacity per parking space and can be used both for sedan and SUV. Double platform of Starke 2227&2221 lowers vehicles into a concealed vault, so that additional cars can be parked above.
✓   COMPACT PARKING BELOW THE GROUND
✓   CONVENIENT INDEPENDENT STORING
✓   SIMPLE ROBUST TECHNOLOGY
✓   UNIQUE SAFETY CUSTOMIZATIONS
✓   BUILDING INTEGRATION
✓   SIMPLE AND EASY OPERATION
✓   CE CERTIFIED
Safety - is a good thing.
Controlled high security level - is better!
In terms of a combination of quality and safety indicators, the equipment has no comparable analogues.
Thanks to the electro-hydraulic control system and complex of mechanical, electrical and hydraulic safety devices in compliance with the prevailing standard for CE marking, Starke 2221&2227 are environmentally friendly, requires less maintenance and is generally more efficient and absolutely safe equipment.
Starke 2221&2227 has the highest degree of reliability and safety in operation, due to following design features:
Mechanical Lock
– is anti-falling mechanical locking device with automatic engagement and pneumatic release, ensuring maximum safety when lift is in standing position.
________________________________________________________________________________
Auto Levelling
Hydraulic levelling system by means of a uniquely innovative synchronization device assures constantly levelled lifting platforms regardless of weight distribution.
There is balance shaft under platform connecting to lifting chains. The balance shaft guarantee the platform moves up and down always in balance.
When the device detects a chain problem, the device spring bounces off and the car lift stops moving. At this point, the device starts reporting an imminent danger and gives an alarm.
________________________________________________________________________________
The dual transmission system
of both steel ropes and chain provides double protection for the equipment. So, a safe anti-falling steel rope protects your cars from accidental damage.
________________________________________________________________________________ 
On the two levels, you can therefore create four parking spaces in one single system with double platforms – and you only need the floor area of two vehicles! 
•  To increase the number of parking spaces in office buildings or residential and commercial buildings
•  Double the parking capacity of underground parking lots or garages, for example, hotels
•  Can also be used in garages for family houses and apartment buildings.
The series of pit two post parking lifts are designed for indoor use only.
Starke 2127 conforms to CE and ISO standard. The CE certificate is from TUV in Germany which is the most authoritative certification in the world.
Yes, the assembly is simple and easy to do. Firstly, we will pre-position most of small parts in our workshop to simply your on-site job, pack them properly for your easy recognition for each parts. Secondly, we have detailed installation, operation and maintenance manual including electrical and hydraulic diagram. You need to have one electrician on site to connect and test electrical control system. Thirdly, we will take photos from real lifts to show you as detailed as possible.
It's not necessary to send our people on site. Surely, we are able to send one engineer at your cost to guide your workers to assembly the system on site if you still worry about it.
You can put any suitable place nearby the pit. You can dig a small pit to put it in (recommended pit sizes are 600Wx800Lx1000Dmm), or choose a suitable position in the middle of those lifts. Please mark the position in your drawing. Then, we are able to prepare long enough hydraulic hoses and electrical cables for motor.
Our standard configuration is for indoor. But some optional extension of configurations can significantly simplify the adaptation of a standard solution to the needs of outdoor implementation:
1. Limit switch can be updated to IP65.
2. Electrical motor can be protected by cover.
3. The chains finishing is better to update with Geomat finishing, and galvanized cover plates with stronger Zinc.
4. We also recommend to add a pit covers.
5. A top coverage is recommended to be built to stop rain, sunshine and snow.
Moreover, such standard characteristics as the finishing structure -powder coating with strong water-proof Akzo Nobel powder, electromagnets protection with a steel cover, galvanizing of all bolts, nuts, shafts, pins do not need additional modification and can be directly used outdoor.
When installing an underground parking, it is necessary to fulfill a number of general requirements to ensure protection against unwanted ingress of precipitation:
1.  Create a waterproof shield layer on the concrete surface of the pit walls and the pit floor.
2.  High-quality waterproofing of the underground parking is a matter of safety and durability of the structure. Therefore, in the front of the pit (the front part of the parking system) we recommend to make a drainage channel and to connect it to the floor drain system or sump (50 x 50 x 20 cm). The drainage channel may be tilted to the side, but not to the floor of the pit.
3.  For environmental protection reasons, we recommend to paint the pit floor and to install oil and petrol separators in the connections to the public sewer network.
4.  We also recommend to create a top coverage for the whole system to protect it from rain, direct sunlight and snow.
---
Post time: Jun-20-2020